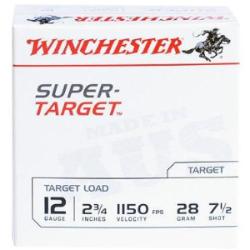 Winchester Super Target 1150 7.5 Shot 2-3/4" 28gm
Regular price $14.85 Sale
Backed by generations of legendary excellence, Winchester "USA White Box" stands for consistent performance and outstanding value, offering high-quality ammunition to suit a wide range of hunter's and shooter's needs.
Target shotshells are used to break clays, while field shotshells are used for hunting.
Target loads are generally considered to cover shot sizes 9, 8, 7-1/2 and 7. Your choice of shot size will depend on the sporting regulations you are shooting within, the distance of your target, and the chokes in your shotgun. Due to the smaller shot size and therefore greater number of pellets per ounce, some shooters choose to shoot closer targets with smaller shot such as size 9. This ensures a better chance of connecting with the target. For longer targets a heavier, more massive shot is preferred due to its ability to carry momentum further than the lighter, smaller shot.