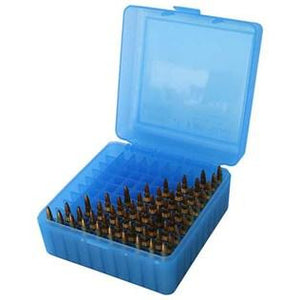 MTM 100rd Ammo Box Small Rifle
Regular price $13.45 Sale
Designed for great afternoon of varmint or competitive shooting. Made of virtually indestructible polypropylene that will not warp, crack, chip, peel, expand or contract, MTM CASE-GARD rifle ammunition cases are still the first choice of rifle enthusiasts throughout the world. Mechanical hinge that is guaranted for 25 years. Snap-Lock latch protects contents from accidental spilling. Textured finish makes it easier to grip and harder to scracth.
Each CASE-GARD 50 ammo box is supplied with a load label for recording load and sight data. All rounds listed as bullet up, unless noted. See ammo box charts for more calibers. 
Fits:
17 Fireball, 17 / 221 / 222 / 223 Rem., 204 Ruger, 218 Bee, 22 Hornet, 222 Rem. Mag., 223 Rem. HP, 25-20 Win., 300 Sherwood, 300 Wisper, 32 Ideal, 32 / 401 Win. S.L., 351 WSL, 38-55 Win., 6x47, 6mm TCU, 6mm-223 Rem.