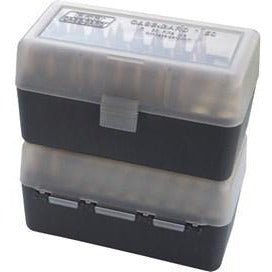 MTM 50rd Ammo Box Medium Rifle
Regular price $10.60 Sale
Case-Gard R-50 Series
These are the newer CASE-GARD ammo boxes. Made of virtually indestructible polypropylene that will not warp, crack, chip, peel, expand or contract, MTM CASE-GARD rifle ammunition cases are still the first choice of rifle enthusiasts throughout the world. Mechanical hinge that is guaranted for 25 years. Snap-Lock latch protects contents from accidental spilling. Textured finish makes it easier to grip and harder to scracth.

In the late 1960's, the original RS-S-50 was designed specifically for benchrest shooters. The CASE-GARD 50, which is available in eight sizes will hold .22 Hornet to 375 Remington Ultra Mag., with each cartridge resting in its own individual compartment. Each CASE-GARD 50 ammo box is supplied with a load label for recording load and sight data. All rounds listed as bullet up, unless noted. See ammo box charts for more calibers. 
load label provided for recording load and sight data

FITS: 

220 Swift, 300 Sav., 338 RCM, 225 / 243 / 307 / 308 Win., 338 Fed., 25 / 32 / 6mm Rem., 28-30 Sevens, 30 Rem. AR, 360 Nitro Express 2 1/4", 5.6 x 52 Rimmed, 6.5 Creedmoor, 6.5x50 Jap Arisaka, 6mm-284 Win., 7.35 Carcano, 7.5 x 54 French MAS, 7.65 x 53 Mauser, 7mmTCU, 7mm-08 Rem..