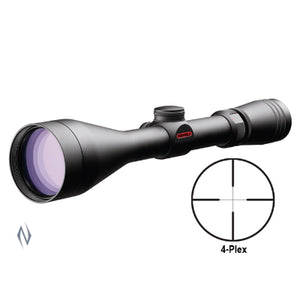 Redfield Revolution 3-9X50 4-Plex
Regular price $391.90 Sale
A NO-NONSENSE SCOPE FOR NO-NONSENSE HUNTERS. Revolution has everything you need, and nothing you don't. 
The rebirth of an American legend; the all-new Redfield Revolution. Made in Oregon using state-of-the-art design, manufacturing, assembly, and testing techniques, the Revolution produces optical, mechanical, and functional superiority that no import can rival.
The Illuminator Lens System combines premium lenses with cutting edge multilayer, vapour-deposition coatings to provide unparalleled image quality, a greater usable field of view, and superior light transmission. 
Heavy posts jump from the background, while guiding the eye to the image centre quickly. Thin crosshairs allow precision placement of your shot. 
Painstaking design effort resulted in Redfield's exclusive Rapid Target Acquisition (RTA) eyepiece, meaning no more missed opportunities because you couldn't find the "sweet spot" behind the scope. 
Tested to levels that literally render competitive scopes useless, you can rest assured that your Revolution is absolutely waterproof, fog proof, shock proof, and covered by the Redfield Full Lifetime Warranty. 
FEATURES
Made in Oregon
Resettable, stainless steel finger-click Accu-Trac adjustments
Best in class durability, image quality, and field of view
4-Plex Reticle
Waterproof, fog proof, shock proof
Rapid Target Acquisition (RTA) eyepiece
Lockable eyepiece
Redfield Full Lifetime Warranty