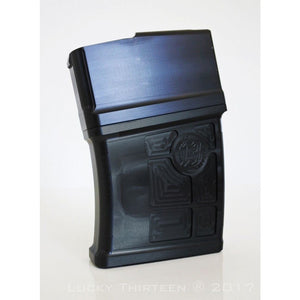 Lucky 13 Lithgow 223 10 shot mag
Regular price $161.70 Sale
Lucky Thirteen is proud to announce the release of the new Mod II line of UNIMAG™ magazines. The new Mod II lineup maintains the full billet aluminium upper construction synonymous with the Unimag brand but now incorporates a more compact, high quality glass reinforced polymer lower.
As has become standard across the UNIMAG™ line, all magazine uppers are painstakingly carved from solid aluminium billets on state of the art 5-axis CNC machines to provide the most consistent, optimized feed ramps and geometry possible. Pairing this with the new generation of ultra compact polymer lowers, the Mod II series of UNIMAG™ now fit all standard Magpul/Voodoo AI style magazine pouches.
UNIMAG™ comes standard in all models with an anti-tilt, high visibility follower and quality internal components that are all still proudly designed and made in Australia.
More compact than its predecessors, the Mod II UNIMAG™ is able to be easily disassembled for cleaning or inspection and is the only durable and reliable choice when it comes to increased capacity.
100% designed and manufactured in Australia.