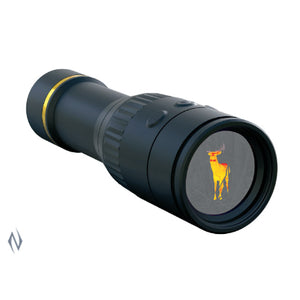 Leupold LTO Tracker 6X Thermal Viewer
Regular price $1,024.00 Sale
The Leupold Tracker Thermal Viewer will change the way you hunt. Now you can spot elusive game hiding in thick cover, or find downed game in dense brush, day or night. 
The thermal signature of a game animal is equally visible during the day or the night, with the thermal viewer giving you the ability to scan the surrounding area for several hundred yards in any direction to find that elusive trophy animal or those cunning crop raiding pests. 
Finally, we now have an affordable, small and lightweight thermal optic specifically designed for hunters. Imagine spotting game that was previously invisible to you without turning on a spotlight and alerting them to your presence. The LTO Tracker is a huge leap forward, and will dramatically improve your chances of a successful hunt. 
Features:
206x156 thermal sensor resolution
Detection Distance: Up to 600 yards
Display: Direct View 1.22" round
Color Palettes: 5 Optional Thermal Filters
Field of View: 20 degrees
Display Resolution: 240 x 204 pixels
Frame Rate: 30Hz FastFrame
Zoom: 4x Digital Zoom
Startup Time: < 3sec
Battery: 1x CR123A
Runtime: 10 hrs continuous
Country of Origin: USA
Warranty: 2-year Electronics Warranty