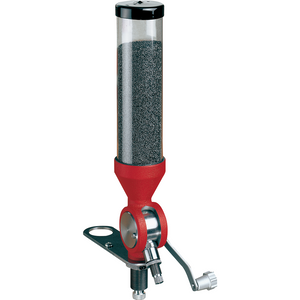 Hornady Powder Measure LNL
Regular price $192.30 Sale
Lock-N-Load®
 

Powder Measure

The pioneering design of the quick change Lock-N-Load® Powder Measure has been copied by others but never replicated. Offering the most flexible operation and widest range of use, the Lock-N-Load® Powder Measure can handle charges of .5 to 265 grains of powder when paired with the appropriate insert and rotor.

Metering inserts can be changed with the push of a button, giving handloaders the ability to load everything from small pistol cartridges to large magnums without having to purchase multiple powder measures. Includes rifle rotor and metering insert. Pistol rotor and inserts sold separately.
Product
Features
LARGEST CHARGE RANGE IN THE INDUSTRY
By simply changing rotor and inserts, you can use one Lock-N-Load® Powder Measure to load powders and charges from .5 grain to 265 grains.
MULTIPLE MOUNTING METHODS
Mount to your bench using a standard mounting bracket and lock ring, or use our Lock-N-Load® bushings to mount this versatile measure on the Fast Load Powder Measure Stand.
PUSH-BUTTON RELEASE FUNCTION
To change metering inserts, simply push the release button and change over to another metering insert. Verify the new charge and you're reloading again right away. Inserts can be swapped in seconds. Go from reloading 30-06 to 45 Auto in no time. Keep the preset inserts with your die sets.
ADJUSTABLE TENSION
The O-ring on the metering insert adjustment lets you put a slight amount of tension on the metering unit to make fine, incremental adjustments. Once you've set your charge, tighten the lock ring to secure the setting.
PRECISION TOLERANCE
With only .002" clearance between the drum and rotor, it's the tightest in the industry for a standard measure. This tight tolerance helps eliminate powder binding between the frame and drum, delivering smooth function with all types of propellant – extruded or ball.
SMALL AND LARGE DROP TUBES
These tubes speed up powder flow. Two drop tubes are included for .204 to 45 caliber. Use the largest drop tube that fits the case mouth. An optional extended drop tube is also available. Optional 17 caliber drop tube sold separately.