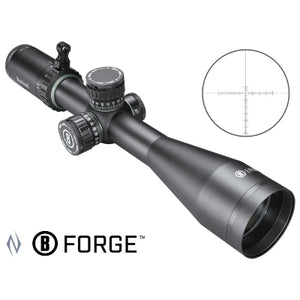 Bushnell Forge 2.5-15x50 SFP Deploy MOA
Regular price $987.00 Sale
Forge is Bushnell's top-line optics category, going head-to-head with the leaders in the industry. Offering the highest level of light transmission mixed with the most dynamic features, the new Forge line from Bushnell was engineered for hunters and shooters never willing to settle for anything but the best. 
Featuring far-reaching magnification ranges, ED Prime tactical-quality glass, additional lens coatings, zero stop turrets and protected by the exclusive EXO Barrier coating - all designed to deliver the best light transmission and resolution possible. 
Additional high performance features include side parallax adjustment, an ultra-wide band coating, and turrets that are clearly marked and operate with an easy pop-up lockable design. A Quick-Throw Lever makes it easy to dial up or down in power without ever taking your eye off the target. 
When the shooting scenario calls for exact round placement hundreds of yards downrange, Bushnell Forge riflescopes are the answer. 
Built for expert shooters who demand the highest degree of precision. 
Features:
PRECISON - Exposed, zero-stop locking turrets and multiple ballistic reticle options offer the ability to make easy first round hits.
CLARITY - The best resolution and contrast in all lighting conditions.
EXO BARRIER - Bushnell's premier protective lens coating repels water, oil, fog dust and debris.
LIGHT TRANSMISSION - Ultra Wide Band Coating enables optimum brightness and true colour.
SIDE FOCUS - Easily correct parallax error without removing eyes from the target
SUN SHADE - Included 2.5 inch sunshade aids in target acquisition on bright days.
30MM TUBE For increased elevation adjustment.
BUTLER CREEK - Flip-up lens caps included.