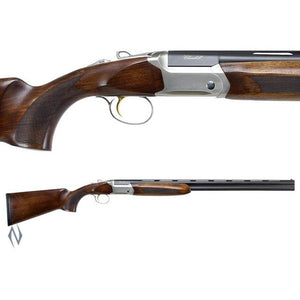 AKKAR CHURCHILL 820 20G 28" SPORTER EJECTOR
Regular price $1,049.00 Sale
Devotees of sub-gauge shotguns will love Akkar's beautiful little 20-gauge upland game gun. The scaled down 20-gauge receiver makes for a very agile and quick pointing platform that feels great in the hand. The modern styling of the receiver and forend sets it apart from the pack and also adds a certain understated appeal to the gun.
As you'd expect, premium quality barrels, precise laser checkered Turkish walnut stocks and interchangeable chokes are all standard features. It also features a crisp mechanical trigger and an auto-safety, both desirable features on any serious upland game gun.
This petite sized gun is a joy to carry all day, whilst still delivering the considerable power and reach that a 20-gauge cartridge is capable of. This is one of those guns that has an agility and responsiveness that can only truly be appreciated in the hand. Once again, Akkar has engineered another magnificent gun at a very attractive price, making the joy of owning a quality gun within the reach of everybody.
Features:
20Ga 3" chambers
28" Chrome lined barrels
5 interchangeable chokes
Turkish walnut stocks
Single selective, mechanical trigger
Auto safety
7mm ventilated rib
Red fibre-optic front sight
365mm LOP
Steel Receiver
Ultrasoft recoil pad
Weight: 3kg (6lb 9oz)